Perrysburg, Ohio –07/15/2022 – Logan Creek and their sister company NAI Harmon Group, an office of NAI Global, a leading global commercial real estate brokerage firm, are in the process of completing the construction of the Harmon Building at Levis Commons. This new building will be on the prime corner of the Entertainment District.
In 2016 NAI Harmon Group purchased the 67,000 SF Orleans Building, the cornerstone property of Levis Commons Entertainment District, out of bankruptcy. Immediately after the purchase, the redevelopment project started by NAI Harmon investing $2 million in building improvements. The property went from seven years of bankruptcy and 40% occupancy to being in perfect standing and 100% occupancy within two years.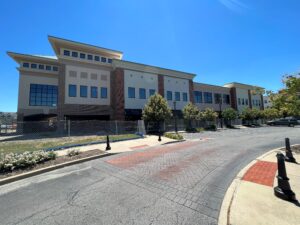 "We are very excited to announce this new addition to the Levis Commons entertainment district," said Mr. Harmon. "This group of restaurants and businesses will only further establish Levis Commons as the premier destination in Perrysburg, Ohio."
The 80,000 SF development, named the Harmon Building at Levis Commons, will be adjacent to the Orleans Building and is currently underway. This finishes the Original Master Plan for that segment of Levis Commons. The projected investment in the new development is $16,000,000.
Currently, in the Construction Phase, this building will be comprised of mixed-use space containing restaurants and retail on the first floor and office space on the second floor. Given the continued success of their first restaurant, Benchmark, the NAI Harmon Group will be opening Claude's Prime Seafood in the new building. The new restaurant is slated to open in the second half of 2022. In addition, HangOver Easy and an undisclosed retail tenant will also be occupying the first floor. Anyone interested in the second-floor space can contact NAI Harmon Group.