Tilt Up Concrete Wall Panel Contractor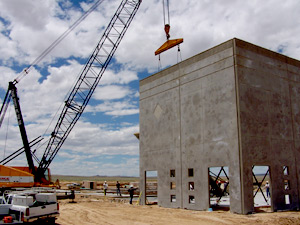 If you're looking to expand or improve your business through a commercial construction project, you should consider hiring a company who knows a thing or two about Tilt Up Concrete Panel Construction. Why?
Tilt up concrete panel construction provides the opportunity to construct a wide range of commercial buildings more quickly than ever before, meaning that your company can start earning revenue more quickly.
The cost of tilt up concrete panel installation is much lower than that of typical masonry construction projects due to low material costs and lower labor costs. If you're on a strict budget but you don't want to sacrifice quality tilt up concrete panel construction is a fantastic option.
It's a safer method in general. Rather than asking construction workers to climb up on high scaffolding, the large majority of the work done on tilt-wall construction sites is done from the ground, which greatly reduces risk and overall liability concerns.
These are just a few of the many reasons why you should consider tilt up concrete panel construction, but why should you consider Logan Creek? Well, for one thing we know a great deal about tilt up construction. In fact, over the years we've built up a specialization in the field, learning through experience. We've worked on tilt up projects across the nation in a wide variety of applications. Tilt up buildings are ideal for a huge range of businesses. In fact, there probably isn't a business out there that couldn't potentially benefit from one. They're less costly than regular buildings and take less time to construct but they're no less sturdy and reliable, and they'll last for just as long as buildings built through more typical means as well.
If you decide that your business could benefit from one just call Logan Creek today. We'll be with you every step of the way, from initial design through construction, asking for feedback and ensuring that by the time we're done every one of your needs will be met. We have the knowledge, the experience and the specialization to work with you on a tilt up construction project today. Contact us to get started.